The Cambodian economy in 2019
The Cambodian economy is projected to grow by 7% in this year, with contributions from various industries such as garment manufacturing, real estate and construction, tourism, and agriculture.

The financial sector has significantly contributed to supporting sustainable and economic growth, while reducing poverty in Cambodia. The financial sector has achieved the best outcomes, including strong stability, competitiveness, and high integration in the region and the world.
Overall performance in 2019
​As of December 31, 2019, total loan portfolio was USD21,424,597, an increase of 16% from USD 18,521,170 in 2018 and total of active clients was 5,874. The current PAR of 0.57% is lower than industry average which indicates a maintenance of strong loan. Even though the growth is still lower compared to industry standards, MAXIMA is considered as an efficient microfinance institution in the market and among good players in the entire sector.
Social performance management
MAXIMA MICROFINANCE PLC. has long demonstrated a commitment to protecting our clients, community and industry that we continue to work every day to improve our service and our commitment to best practices in microfinance.
As of July-2019, MAXIMA became the tenth microfinance institution in Cambodia to be awarded the SMART Campaign's Client Protection Certification after the implementation of its Client Protection Principles.
Sustainability and going forward
In 2019 and in the coming year MAXIMA will continue to innovate the transformation of the operational teams to maintain a client-centric approach. A digital product is being tested to give clients remote access to services. MAXIMA is also focusing on improving its processes and data management
This transformation will enable MAXIMA to become the responsible financial institution in Cambodia with regards to client outreach, quality of services and profitability. The institution will remain true to its mission to serve urban and rural households with innovative and accessible financial services. MAXIMA has continuously strengthened its operations in the face of market movements and challenging context in Cambodia, with competition increasing in the market following the impact of the regulatory changes
MAXIMA has coped its strategy to comply with these new requirements and continue to serves its clients responsibly, as illustrated by the fact that it maintained an excellent portfolio quality over the year.
The board and shareholders are confident that MAXIMA's management and staff will make MAXIMA continue its high level of performance for all stakeholders.
On behalf of the board of directors, I would like to express my sincere appreciation to our shareholders and partners for their continuous support of MAXIMA and thank MAXIMA's management team as well as all staff for their constant hard work to ensure that MAXIMA continues to serve its clients as responsible microfinance. I am confident that MAXIMA will continue to enhance itself toward a stronger and highly admired financial institution in Cambodia to better serve the clients and society. Once again, my thanks to all funders, investors, and clients for all the confidence in the institution that would allow MAXIMA to continue its operation and expand its growth in the years ahead.
On behalf of the Board of Directors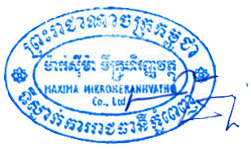 AN BUNHAK
Chairman