The financial sector in Cambodia is in stable condition and represents good growth. Recent move on Financial Technology is the strategy for Cambodia financial sectors towards ASEAN integration into the market. Meanwhile, expansion of microfinance as a whole in Cambodia signals the contribution to increase access to the credit service. During the year, the trend is positive for banks and MFIs owing to the fact that some Microfinance Institutions have transformed to become banks to enlarge services for the client.
Although the competition is tough, the change in rule and regulation, MAXIMA is able to comply with all requirements and maintain operation to grow healthy. Total loan portfolio increased by 16% represents USD 21,424,597.15. However, the active clients are 5,874; decreased slightly by 2%. The profit after tax by year end 2019 equals USD 515,149 (profit based on CIFRS for SMEs). Regarding human resources, MAXIMA total staff reaches 171 by year 2019. Among the 171 staff there are 39 female staff; and 5 female staff hold management position. MAXIMA is able to maintain a good working environment, and able to reduce the staff turn-over rate to 14.62% as in 2019.
In order to serves clients better, MAXIMA has worked towards changing the mission statement of the company. The new mission statement mentions "To provide inclusive financial solutions to low income households and SMEs for improving their socio-economic standards in a sustainable way". MAXIMA balances both financial part and non-financial part, and especially implements and turns the operation strategy into real practices. Within the commitment, MAXIMA binds a contract with social partner called "Water.org" to provide WASH (Water and Sanitation Hygiene) product for our clients. MAXIMA also joined force with Cambodian Microfinance Association in terms of two main projects: (1) Voice of the Clients; and (2) Financial Literacy Campaign. In regards to these aspects, MAXIMA keep maintain good relationship with the clients, prepare the client satisfaction survey, and clients exit survey to experience the level of satisfaction from the clients. Within all these efforts to take care of the clients, MAXIMA achieved the Smart Campaign Certification on Client Protection Principles in July 2019.
On behalf of the management team, I would like to express my sincere thanks to shareholders, the chairman, Board of Directors for their leadership, support and guidance throughout the year. I would also like to express my sincere gratitude to all MAXIMA staff that have been working very hard and are highly committed to performing their work with high responsibility, professionalism and accountability.
Finally, I am grateful to the Royal Government of Cambodia, National Bank of Cambodia, our valued clients, business partners and other relevant parties for supporting MAXIMA.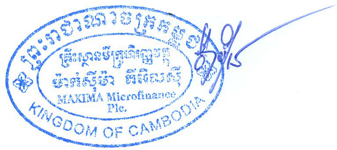 Pa Ponnak Rithy
Chief Executive Officer